6 Tips for a Luscious Lawn this Spring and Summer
Posted on: 18/04/2017
The British love affair with their lawns shows no signs of abating. The favourite garden design continues to be a combination of patio, grass and flower beds. The whole look can be ruined by a lawn that is patchy or weedy. Here are our 6 spring lawn care tips.
Rake up leaves. Over the winter when grass doesn't grow very fast, raking up leaves and draining any puddles is the most important way that you can care for your lawn. Now that spring is here, one last rake will reveal what you'll be dealing with.
Add fertiliser. Lawn fertilisers are available from all garden centres and some larger supermarkets at this time of year. Liquid feeds can be added to a watering can and poured over your lawn to add nutrients. (Manufacturers nearly always tell you to add more than is strictly needed).

Remove moss. Moss tends to proliferate on a damp lawn. It can be removed by scarification (raking that tears up the shallow rooted moss but leaves the grass intact). Alternatively, some organic fertilisers such as MO Bacter claim to remove moss as well as feed your lawn.

Re-seed sparse patches. This job is best done in spring or autumn. A healthy sprinkling of grass seed and a good watering will rejuvenate a bald patch of lawn. Do not walk on this bit until new grass is firmly established.

Aerate ground. If the soil begins to dry out during a prolonged sunny spell (chance would be a fine thing), take a garden fork and spike it into the dry earth before watering. This will ensure that water penetrates deep down to the root system of your lawn.

Mow the lawn. And so it starts… the season of weekly mows. Mowing a lawn can be seen as a meditative exercise good for your mental and physical health. Or you can pay your teenage nephew a fiver to do it for you.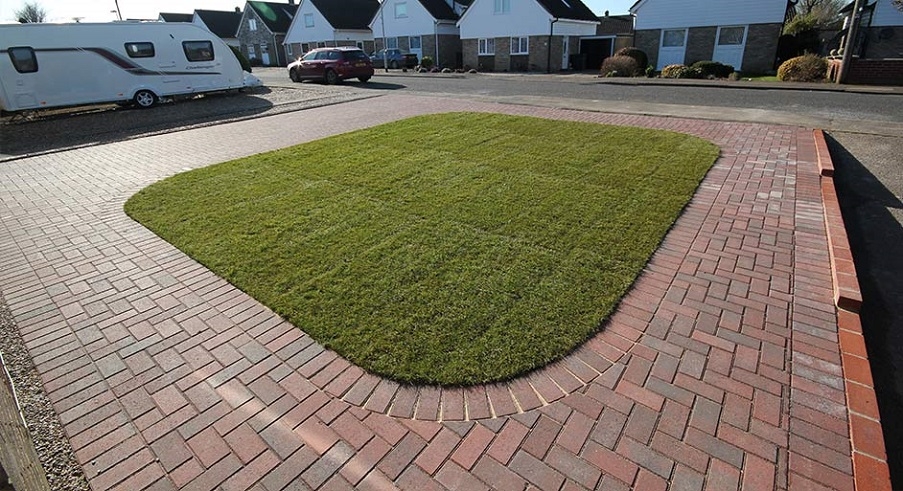 These simple lawn care measures should be enough to keep a lawn that is in relatively good condition healthy throughout the spring and summer. However, if your lawn is a dandelion strewn mess, you may wish to start again. Knights Paving and Landscaping offer a full landscaping service that can transform your garden. We can rip out that old lawn and replace it with a neat patio by your house and fresh turf further out.
For more information on our landscaping services, including our driveway and patio installation services, please call 01603 360538 or send us an email to enquiries@knightslandscaping.co.uk.
What state is your lawn in? Share your pictures with us on Facebook and Twitter.