The Trend for Using Porcelain Paving Slabs
Posted on: 15/02/2018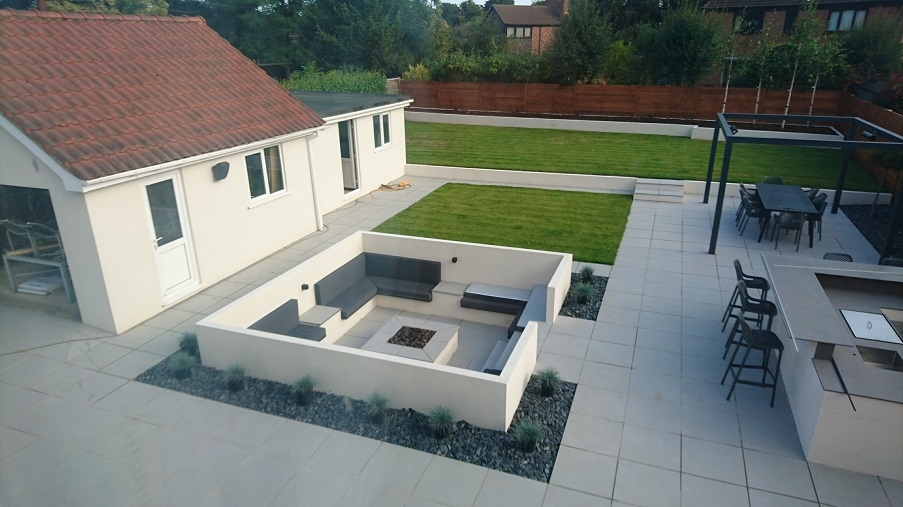 The landscaping industry undergoes frequent changes and new trends emerge. A couple of years ago, everyone was asking about slate. More recently, we have watched one particular trend grow enormously in popularity: the use of porcelain slabs for exterior paving in landscaping jobs.

Porcelain Paving Slabs
Here are some of the main benefits of using porcelain paving slabs:
Easy to maintain – Porcelain paving slabs are among the easiest type of paving slabs to maintain. The only real maintenance they will require is having their sealant replaced every five or so years. When the proper grout is used, the only cleaning they will require is a simple hose down.

Hard wearing – Due to the slabs' high density, they are extremely hard wearing. They are also scratch-resistant, making them perfect for use in high footfall areas like paths and patios.

Modern style – Porcelain paving slabs have a very modern look to them. The smooth and clean appearance makes them perfect for a wide range of contemporary garden designs.

Moisture resistant – Porcelain paving slabs are much less prone to absorbing moisture than other types of ceramics. This makes them perfect for properties where heavy levels of rainfall are expected (the whole of the UK). Some ceramics will crack after absorbing water, not a problem with porcelain.

Why Have They Become So Popular?
Many of the previously mentioned benefits are the reasons responsible for porcelain paving slabs becoming so popular. Porcelain slabs are starting to be seen as a much more viable option for landscapers compared to other ceramic and natural stone options on the market. This is largely down to the fact that they can be made to look practically indistinguishable from other paving slabs, while providing benefits that can't be matched by their rivals.
Our Work with Paving
We have been working in the landscaping industry for over 30 years. In this time, we have worked with a wide variety of different materials on an even wider range of products and have become renowned in Norfolk and beyond as experts at paving.
We developed our five-step paving process to ensure that all of our customers get the same high-quality finish on all of our paving work. Our complete paving service covers every part of our paving work, from design to aftercare. Last year, we completed one of our bigger jobs with porcelain paving slabs, which involved turning a grassy garden into a complete patio with a built-in fire pit and an outdoor kitchen.
Interested in having your own garden updated with a porcelain patio? We can help, call us on 01603 360548 or email us on enquiries@knightslandscaping.co.uk.
Follow us on Facebook and Twitter for the latest company news.